Features
UV stabilised polyethylene
For excellent impact resistance and reduced maintenance costs.
Foam filled
Norfloat International's range of navigation buoys are pressure foam-filled using marine grade polyurethane foam, to a density of 36kg per cubic metre. In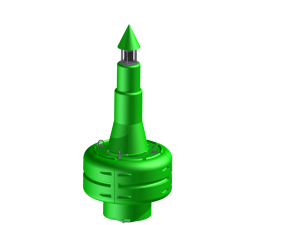 the unfortunate event of a collision, the buoy will remain afloat.
Replaceable tower
In the event of damage, the two section tower can be replaced whilst on station. The tower will accept all makes of self-contained lights, solar panels, ladders and internally fitted radar reflector.
Handling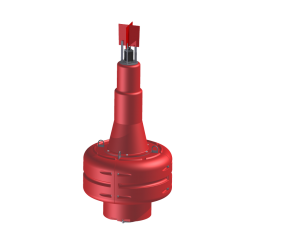 For safety and ease of handling purposes the buoy can be handled using two or four lifting eyes.
Keel
The NN1900 buoy is available in either; long keel or the standard short keel. The long keel system (spar) provides excellent stability making it very suitable for shallow and exposed applications.
Specifications

| Product code | NN1900 |
| --- | --- |
| Diameter | 1900 mm |
| Air weight | 950+ kg |
| Ballast | 100 - 500 kg |
| Hull volume | 2656 ltrs |
| Reserve buoyancy | 1605 kg |
| Focal height | 3000 mm |
| Draft | 930 mm |
| Overall height | 4535 mm |
| Handling lift points | 4 |
| Mooring connection | Single point bridle |
| Mooring chain | 25 - 38 mm |
| Hull | 4 Section MDPE |
| Central core | Galvanised steel |
| Tower | 2 Section MDPE |
| Day mark | Marine grade aluminium |
| Application | Coastal and Inshore |