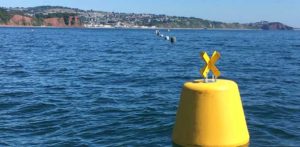 Norfloat International has been rotationally moulding buoys for aquaculture, ports, harbours, marinas, ministry of defence, civil engineers and local authorities for over 50 years.
We understand industries, applications and environments often require something tailored to their needs. For open Ocean Farming, Norfloat International produces the "Open Ocean" range of perimeter and spring buoys.
Norfloat International's Open Ocean perimeter buoys have been specifically designed for the offshore aquaculture industry. Key design elements such as the class leading 10-15mm hull wall thickness, UV13 stabiliser, and long tube keel have been introduced to the range optimising longevity, stability and grid security. All buoys are foam filled using marine grade polyurethane foam to a density of 36kg per cubic metre. All steel is finished with two stage hot dipped galvanising to EN ISO 1461.