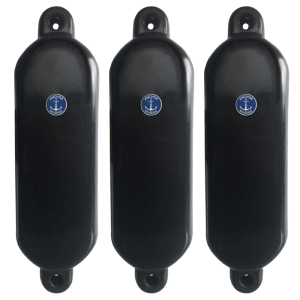 Slab / Flat-sided Canal Fender
The flat-sided fender, also known as the slab fender, is an exceptionally strong and hard wearing narrow boat fender made from UV resistant marine grade PVC. As the Norfloat International slab fender has class leading thickness, it is best suited to providing the highest level of protection although only 6cm in depth.
Canal and Narrow Boat Fenders
Specially designed for the narrow and canal boats, these tough inflatable fenders offer excellent protection when travelling through locks, passing other crafts in congested areas and mooring. Two models are available: a flat-sided tough one piece moulding with two solid rope eyes, and the a rigid rope eye, and the inflatable tube with a reinforced rope eye, available in two
sizes.
Features and tips
• Small diameter to help with limited searoom on canal
• Choice of either single or double eye
• Ideal when the 'squeeze is on' and the paintwork needs protecting
• Available in black, burgundy and royal blue as standard – other colours on request
• Proven rugged and hard wearing design:
– UV stabilised for maximum wear protection and long product life
– Manufactured from a special harder material to cope with aggressive abuse