Anchor Marine's fender range
For over fifty years Anchor Marine, also one of International Marine Holding's companies, has been making high quality fenders which both protect boats, and look good. Anchor Marine is renowned for its range of good looking and extremely high quality fenders, ideal for the leisure market.
This range of fenders is extremely durable and able to stand up to the demands on the roughest conditions. Anchor Marine standard fenders are moulded in one piece from a UV stabilised specially formulated marine vinyl. The rope eyes have injection moulded insert which supports the fender rope and protects the rope from carving into the fender over time. Controlled heat during manufacturing produces an even wall thickness eliminating any possible weak spots. A thicker wall thickness than our competitors means a stronger, longer lasting fender. The ultra reliable 'football style' inflation valve ensures the fenders will not deflate accidentally and allows simple pressure adjustments whilst still attached to boats.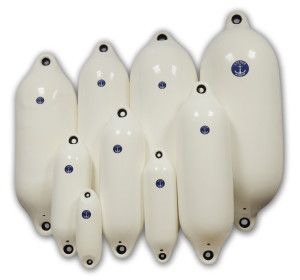 With a stylish design and a superb smooth finish, these fenders are fully customisable with boat names, clubs or sponsorship logos.
For further information, click here